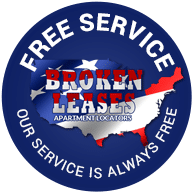 Privacy and Disclaimer Statement
for Houston Broken Leases (brokenlease.com)
Effective Date: November 27, 2012.
brokenlease.com ("Website") is owned and operated by (Approved Apartment Locators Inc.)
We are deeply committed to our Privacy Policy for your protection. We have created this privacy statement in order to demonstrate our commitment to you. This privacy statement describes what personal information we collect and how we use the information.
By entering our website you agree to the terms and conditions of our privacy policy. If you have questions or complaints regarding our privacy policy or practices, please contact us using the Search Apartments button above.
Personal Information includes the following categories of information: Contact Data (such as your name, company name, contact information, telephone number, email address, and other information you may share. If you communicate with us by e-mail, register to receive our newsletter or complete online forms on our Website, any information provided in such communication may be collected as Personal Information. Any information provided becomes our property once received by us and may be used as permitted in this Policy.
How your Personal Information is Used
brokenlease.com use Personal Information in the following ways: (1) to enable you to use our website and Tools; (2) to contact you about the Website related products and services in which we think you may be interested; (4) to provide customer service; and (4) to customize and tailor your experience on the website. We monitor visitor traffic patterns and website usage to help us develop and enhance the design of the website. We may use your IP address to help diagnose problems with our server, and to administer our Website.
We may use your Personally Identifiable Information to contact you with information we think you would be interested in. If you do not want to receive this information, you may contact us at contacts.html
As a member of our newsletter, you will periodically receive e-mails featuring our website updates and news. If for any reason you would like to cancel or unsubscribe from the newsletter membership, you may do so at any time.
This website uses Google Analytics, a web analytics service provided by Google, Inc. ("Google"). Google Analytics uses "cookies", which are text files placed on your computer, to help the website analyze how users use the site. Google, as a third party vendor, uses cookies to serve ads on your site. Users may opt out of the use of the DART cookie by visiting the Google ad and content network privacy policy.
Google Analytics Opt-out Browser Add
https://tools.google.com/dlpage/gaoptout/
Where necessary, brokenlease.com uses cookies to store information about a visitor's preferences and history in order to better serve the visitor and/or present the visitor with customized content.
You can change your browser settings to disable cookies if you have privacy concerns. Disabling cookies for all sites is not recommended as it may interfere with your use of some sites. The best option is to disable or enable cookies on a per-site basis. Consult your browser documentation for instructions on how to block cookies and other tracking mechanisms. This list of web browser privacy management links may also be useful.
Not accessible by visitors under 18 years old.
In compliance with The Children's Online Protection Act, this is a site which provides services to visitors over 18 years old. Anyone under the age 18 is not allowed to participate in any survey, free information lists, or any activity in which you have to enter any personal information.
If you have any questions about this privacy statement, the practices of this site, or your dealings with this Web site, you can contact us at our Message Center.
brokenlease.com is not responsible for the accuracy or application of the material presented herein which includes, images, photos, copy, and other related material and resources.
The services, products, and advise provided are as is without warranty of any kind, either express or implied, including but not limited to the implied warranties of merchantability and fitness for a particular purpose. In no event shall brokenlease.com, or the owner be liable for any damages, including direct, indirect, incidental, special or consequential, loss of buiness profits or special damages, even if brokenlease.com, or the owner has been advised of the possibility of such damages.
Some jurisdictions do not allow the limitation or exclusion of liability for incidental consequential damages so some of the above limitations may not apply to you.
Links on this site will take you outside our web server. Although these links were established to provide you access to useful information, we do not control and are not responsible for any of these websites or their content.
Changes to this Privacy Policy
The Application reserves the right to make changes to this Privacy Policy at any time by giving notice to its Users on this page. It is strongly recommended to check this page often, referring to the date of the last modification listed at the top of this page.
By visiting this site information received may be subject to being sold to third parties.