LET'S FIND AN APARTMENT IN MIAMI FOR YOU!
PLEASE FILL OUT THE FORM ON THIS PAGE – THE MORE INFORMATION YOU GIVE US THE BETTER JOB WE CAN DO TO HELP YOU.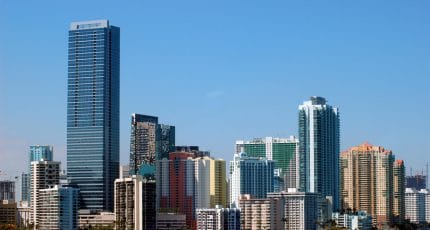 Miami Apartment Finders is a top-notch and trusted locating service of the Miami, FL and nearby areas.
Is there an apartment you have in mind to rent, but are afraid that having poor credit or an unfavorable rental history may get in the way of the approval? Well, you do not need to worry because with the assistance of Miami Apartment Locators, we can help you get the apartment you desire regardless of your credit history or rental history.
Today is the present, so no need to dwell on the past and let it ruin your future. We have the tools in place to help you obtain the most ideal Miami apartment or rental property no matter what your rental or credit history shows. You will be able to get your most desired apartment in fitting within your budget.
Miami is located in and the county seat of Miami-Dade County, and there are around 400,000 individuals taking up residence in approximately 158,000 housing units. With Miami as big as it is, you can only imagine how much of a challenge it can be to find a suitable apartment especially when you are dealing with credit history and rental history that isn't so favorable. Miami Apartment Locators will make the apartment searching process as stress-free as possible by providing a listing of several suitable places to rent. Our services are absolutely free of charge!
No matter what is showing on your credit report – an eviction or a broken lease agreement, slow payment history or liens against you, Miami Broken Lease Apartment Locators can help. According to the Consumer Financial Protection Bureau, there are approximately 45 million people across the United States that either have insufficient or no credit history at all. You are not alone and there are many other people residing in Miami and the surrounding areas with similar credit and rental issues.
Miami Broken Lease – A lease is a signed written rental agreement between a landlord and a tenant for a period of time. If a tenant ends up vacating their apartment without the landlord's authorized consent, the signed lease becomes a broken lease. A broken lease means the leasing terms ended up being abandoned by the tenant. If a tenant breaks a rental agreement, it can impact the person's tenant rating and ruin any chance of getting a good apartment in the future. A broken lease can show up in the landlord/tenant reporting database for up to 7 years.
We'll help you find eviction friendly Apartments!
An eviction in Miami – When a tenant is forced to vacate the apartment they are leasing because they did something to violate the leasing terms such as not paying the rent. When a tenant doesn't pay the rent, a landlord may want the renter out of the apartment as soon as possible. A landlord cannot do anything that is against the law to get a tenant to vacate. To evict a tenant, a landlord must follow an eviction protocol and have it done legally through a court of law by a judge. For any tenant being served eviction papers or if a landlord does anything that seems to be illegal to get a tenant to vacate, should consult with a Miami eviction attorney.
If a landlord claims the tenant has violated the rental agreement, the tenant must be presented in writing the exact problem and give the tenant time to fix the problem, and this includes a tenant not paying their rent. This would need to be done before the landlord can go to court to have the tenant removed from the apartment.
Apartment locators at Miami Broken Leases will be able to find a nice place to rent no matter if you have a broken lease, eviction on record, slow pays or anything else getting in the way of you trying to get a decent apartment! We will save you time and the stress of searching for an apartment. Our Miami Locator Service is free.
Our Miami apartment finding service is highly regarded as being able to connect renters with an apartment or rental property no matter what circumstance is affecting their credit. We have years of experience serving renters. We are known as the regions most trusted apartment Miami locator service. Our professional rental agents have the skills required to match you with your chosen apartment that will work within your budget!
We have a sizeable database including a range of independent landlords and diverse apartment complexes in Miami, we can quickly and easily search for a rental place based on your living requirements and finances. If you have a not so perfect credit, an eviction, or a broken lease in Miami and want a place to rent, we will be able to find the best place for you. Customer satisfaction is vital to us, and we will do what it takes to find you a new apartment or rental property, at an affordable price.
No Matter What … We Can Help You Get an Apartment Even with …
POOR CREDIT | NO CREDIT | BROKEN LEASE | FORECLOSURE | EVICTION
To get started, just fill out the form completely and submit it. One of our Miami Apartment Finders will be in touch with you and present a listing of the available Miami apartments matching your requirements! The entire process is easy!
FREE Miami Apartment Locator Service Quick and Easy Process:
ASSIGN – You will be assigned a personal agent who will locate the best apartments available for rent in Miami fitting your requirements and price range.
RECEIVE – After your information is put into our database, you'll get a personalized list of Miami apartments to rent, which will include pictures, floor plans and monthly rent prices.
REVIEW – Your locator will go over the final results with you, and then we will take care of it from there.