LET'S FIND AN APARTMENT IN SAN DIEGO FOR YOU!
San Diego Broken Lease Apartment Finders
PLEASE FILL OUT THE FORM ON THIS PAGE – THE MORE INFORMATION YOU GIVE US THE BETTER JOB WE CAN DO TO HELP YOU.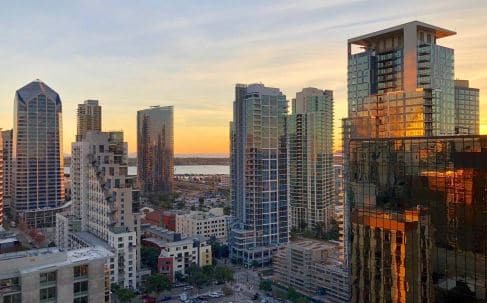 San Diego California - Apartment Locators are here to help you even if you have a broken lease.
Broken Lease Apartment Finder in San Diego California
San Diego County is so beautiful sweeping along the ocean and the city is pretty at night especially from the hillside areas. But housing is challenging even if your past credit history is uneventful. It's exceptionally challenging to find an apartment that accepts evictions or broken leases. That's why we have a broken lease apartment finder serving San Diego and the nearby communities.
What is a Broken Lease Apartment in San Diego?
We take the time to locate apartments where the owners are open to providing housing for people who have gone through a broken lease or an eviction. Some common reasons for broken leases include an unexpected job change, an unexpected death, divorce, or a change in the number of people who are able to contribute to the rent of the home. If you have been evicted, you may believe that you will not be able to find apartments that accept evictions in San Diego and nearby Carlsbad, but this is not the case. We have an apartment locator in San Diego serving the region that borders close to the Tijuana border in Mexico.

If you are looking for an apartment that accepts evictions, you have come to the right place. Take some time to fill out our form and let us know more about your leasing history. We match people who are looking for housing with apartments that may not run a credit check or accept people who have broken leases or been evicted in the past.
How to Get Started Apartment-Seeking in San Diego
One thing you can do to begin your housing search is to work with us so we can locate you a home in San Diego that works for you. You can also begin to document your income so you can offer proof of income to your future landlord. Housing is generally a challenge in desirable communities like San Diego and Carlsbad. One of the major sources of economic stability in San Diego are the Marine Corps and US Navy. The University of San Diego and Cal-State University of San Diego provide additional thousands of Millennials living in the area.
Our Apartment Locators are Hard at Work for You: Even with an Eviction in Your Past
If you're looking for a new apartment and you've had some bad luck and bad history with your credit in the past, we are the right place to start. You can share with us more about your apartment search, how many bedrooms and baths you need, and your rent limits, and we will match you with our apartment locators that work with broken lease apartments in San Diego.
You might start also by getting to know the San Diego community and if you have children, you should check out the schools in the various neighborhoods. It's a good idea to drive around a community looking for 'for rent' signs also, but we do the heavy lifting if you have a credit history that is less than perfect and need help despite an eviction or a broken lease. It's time to get started. We're here for you.
Accepted, even if you have...
No credit at all |

Eviction history | Bad credit rating | Foreclosures / Broken leases
FREE San Diego Apartment Locator Service Simple Process:
ASSIGN – Your personalized agent will find the most suited apartments for rent in San Diego or your desired area, that best complies with your key elements. This includes locations fitting your price range or places to living in the best location.
RECEIVE – Once criteria are put into the database, you'll get your very own customized list of readily available San Diego apartments. This will include photos, floor plans and rental prices.
REVIEW – Your locator and you will review the final results, and then we will go from there.